Ayurveda can be defined as a system, which uses the inherent principles of nature, to help maintain health in a person by keeping the individual's body, mind and spirit in perfect equilibrium with nature.
Ayurveda is a Sanskrit term, made up of the words "ayus" and "veda." "Ayus" means life and "Veda" means knowledge or science. The term "ayurveda" thus means 'the knowledge of life' or 'the science of life'.
According to the ancient Ayurvedic scholar Charaka, "ayu" comprises the mind, body, senses and the soul.
             The two basic aims of Ayurveda are to prevent illness, heal the sick and preserve life. This can be summed up as follows:
             1. To protect health and prolong life ("Swasthyas swasthya rakshanam")
             2. To eliminate diseases and dysfunctions of the body ("Aturasya vikar prashamanamcha")
Thus the conceptual and operational framework of Ayurveda is very extensive and it includes all the essentials to make a man healthy and happy. It comprises the study of right conduct (dharma), which is necessary for the healthy growth of society where the man lives. Additionally it deals with the philosophical aspect of life, the knowledge that contributes greatly to the wellbeing and contentment of all human beings.
Dr. G. D. Pol Foundation is the leader in offering innovative healthcare and Management education. The reputation, the highly experienced faculty, the huge campus and the amicable atmosphere of the college makes Dr. G. D. Pol Foundation an exceptional institute. Many more such salient features set us apart from all other institutes offering healthcare and Management education. Thereby, these differences are further responsible for setting our students apart from students of all other colleges.
The trust is successfully conducting and managing the Y.M.T. Ayurvedic Medical College, conducting B.A.M.S. Degree course, since November 1991. The Y.M.T. Ayurvedic Medical College is affiliated to the Maharashtra University of Health Sciences, Nashik and recognized by Central Council of Indian Medicine, Ministry of Health, Government of India, New Delhi, an apex body in the field of Indian system of Medicine. The College has an intake capacity of 100 students per annum. This is a fully fledged college which provides all facilities to its students. By the year 2010 there were nearly about 900 Doctors who have passed out from this college and rendering the Health Services throughout the Maharashtra State. Many Students of this college have ranked in the merit list of the B.A.M.S. examinations held by the University of Bombay and Maharashtra University of Health Sciences, Nashik.
The Ayurveda college is has well functioning B.A.M.S. and UG courses. We conduct quality PG courses, affiliated by M.U.H.S., Nashik. We continuously train generations of students and mould them into outstanding Ayurveda practitioners and excellent teachers in the field of Ayurveda.
We organize workshops, guest lectures, seminars, clinical meetings designed to educate Ayurveda students, Ayurveda practitioners & general public regarding the effectiveness of Ayurveda. We have highly qualified & experienced faculty.
Our college has 7.5 Acres of land where in more than 4000 Ayurvedic plants of more than 300 species are planted. A scientific Nakshatra Udyan is developed by the department of Dravyaguna in this area. There is a Central Research lab with all modern equipments developed for UG & PG students to carry out their research works for drug standardization. Rasa Shastra & Bhaishajya Kalpana department prepare Ayurveda Medicines in the pharmacy of our institute. We have a Govt. approved T.B.OPD for poor and needy patients.

Dr. Sanjeev Yadav
Dean
Dr.G.D.Pol Foundation,
YMT Ayurved Medical College an hospital


Name

DR. SANJEEV YADAV


Designation

Dean / Medical Superintendent

Qualification

B.A.M.S. (Ayurvedacharya),
M.D. (Shalyatantra)

Address




Sriram Kapus Kamgar
Society, A1/3 Kurla
(E) Mumbai Pin 400012


Date of Birth

22/05/1962

Teaching Experience

26 Years

Date of Joining

29/09/1994

Reg. No. (MCIM, Mumbai)

I-30850 A1

Teacher Code

AYST01277

Office Phone No.

022-27744406

Mob. No.

9322456999

Fax No.

022-27744427

Email ID

drsanjeevyadav22@gmail.com
Hello everybody!
Thank you for visiting our website. Being the Dean of Dr G.D.Pol Foundation Ayurvedic College and Hospital situated at Khaghar, Navi Mumbai, it gives me immense pleasure to introduce the institute to you.
The purpose of every science is to serve human kind and seek for their welfare. According to ancient Indian Philosophy the purpose of life is to achieve DHARMA, ARTHA, KAMA and MOKSHA. To achieve this, a healthy body & mind are very essential, this is achieved through Ayurveda. Ayurvedic medical profession plays a very important role in the society.
We insist on the up gradation of our faculty members and students. We believe that regular interaction with experts, scholar and peers is the foundation of a good academic set-up. This is brought about by organization of workshops, seminars and conferences.
We support and encourage participation of our faculty members and our students in various such events within and outside the institution. Curricular and co- curricular activities are included in the academic calendar to promote the overall personality development of the students. This renders them the confidence to accept any challenge in their future life.
The backbone of all our achievements in the highly qualified, experienced and enthusiastic staff is. Our graduate and post- graduate students have achieved sky-scraping position in various Ayurvedic areas and even in their own practices.
I would sincerely like to thank my Faculty, Staff and Students for their whole hearted co-operation and to make my mission successful.
Dr G. D. Pol Foundation's YMT Ayurvedic medical college is one of the most prestigious Institutions of state of Maharashtra situated in very well planned city in the West Coast named Navi Mumbai. 
 In the field of academic medicine principal goals is to provide the best Healthcare to heal the sick and to advance science by promoting research. Our faculty at YMT is comprised of some of the most ambitious talented and hard core academic medical professionals. Our institution has grown  spectacularly achieving notable multi directional success in many folds and attend the present distinguished position since it was started in 1991. Our system focus on regular organisation of indoor and outdoor medical camps for enhance exposure for gaining practical knowledge.Frequent organisation of scientific sessions in terms of seminar, webinars, workshops, guest lecture helps to quench the knowledge thirst of intellectuals. Various NSS activities develops Social awareness among the students. Various cultural and sports activities always give students opportunities to address relax abreast physical fitness. Well equipped Central research lab facilitate good research work for postgraduate students. Good quality hostel provide easy accommodation for students.
With the immense cooperation of the creator of our Institute, Dr G. D. Pol Sir; Dean, Dr. Sanjeev Yadav sir; Teaching and Non-teaching staff members, I am positive that we will always be a beacon of light, guiding the destiny of its students by its integrated teachings and will remain committed for the highest standard through this institution.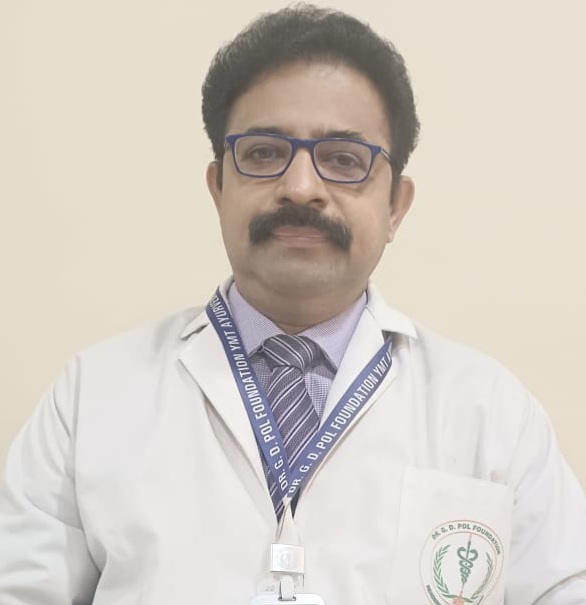 Dr. Ninad Sathe
Vice Principal
Dr.G.D.Pol Foundation,
YMT Ayurved Medical College an hospital


Name

DR. Ninad S. Sathe


Designation

Vice Principal

Qualification

B.A.M.S. (Ayurvedacharya),
M.D. (Rasashastra) Ph.D.

Address




A/ 401 Om sai Dham Chs,
Plot no 40, sec 17,
Vashi Navi Mumbai


Date of Birth

03/09/1973

Teaching Experience

20Years

Date of Joining

01/12/2000

Reg. No. (MCIM, Mumbai)

I-31747-A-1

Teacher Code

AYRB00382






Mob. No.

9820274619

Fax No.

022-27744427

Email ID

rs.bk@gmail.com