Department | Teaching Department |
Sanskrit and Samhita Siddhantha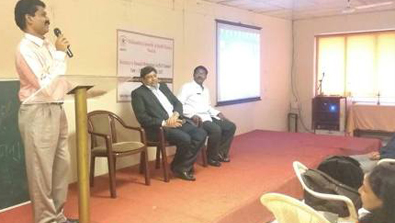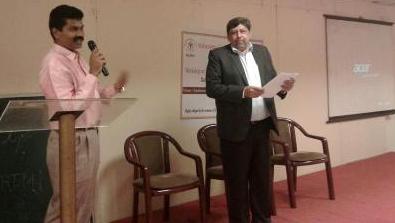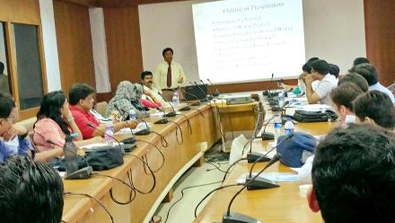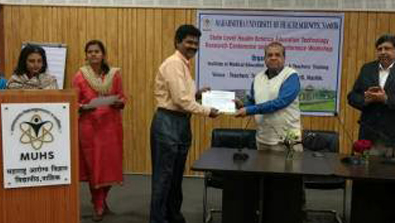 Department of Sanskrit, Samhita and Maulik Siddhanta is one of the pre-clinical departments of Ayurveda.
This department imparts knowledge of Ayurvedic fundamentals and the Sanskrit language to the students of 1st year B.A.M.S. course. This department is concerned with basic principles of Ayurveda thus this department is populary known as department of basic principles.
At the UG level along with Sanskrit four other subjects are taught by this department viz. Padarthvijnan, Ayurveda Itihas (History of Ayurveda), Ashtangahridaya Sutrasthan and Charakasamhita. The responsibility of this department is to conduct two specialty courses – Samhita and Mualik-siddhanta and teaching research methodology at the PG level.
Glorious history of Ayurveda is taught to the students' throught department. History of Ayurveda enables the students to understand the development in Ayurveda during pre-vedic, Vedic, medieval period and recent developments.
This department teaches the basic principles like Panchabhootha Sidhantha, Thridosha Sidhantha, diagnostic and treatment principles of Ayurveda medicine. Basic principles are very important in Ayurveda, without the knowledga of basic principles one won't be able to understand and learn Ayurveda.
Sanskrit is the basic subject that is taught to the students through this department. Sanskrit language helps the students to understand the original Ayurveda text books that are written in Sanskrit. The subject has been included in the curriculum as it is the language of the ancient Ayurvedic texts. It has been looked upon that the student must be well versed with the language so as he would be able to read and absorb the concept explained.
Furthermore Padartha Vijnana subject is the main subject of this department. Padartha Vijnana provides the basic knowledge about the evolution of the Ayurveda from Indian philosophy. It explains Darshana Shastra and the scientific base. This enables the student to amplify and implement the basic Ayurvedic concepts. The Panchamabhoot (Five Basic Elements, Panchamahabhutas-Earth, Water, Fire, Wind, and Space) siddhant is very important in Ayurveda. As per Ayurveda every element in this Universe is made up of these five element so is the humanbody.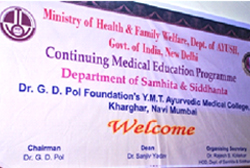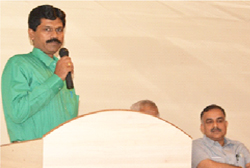 In the Samhita section the students learn about :
Ashtang Hridayam :Excellent classical text by achary vagbhata which gives the basic information of Ayurvedic principle.
Charak Samhita Purvardha :Classical text by acharya charaka. Introductory & basic principles of ayurved are given in this part of ayurveda are samhita.
Charak Samhita Uttarardha : Most application part of charak samhita. Knowledge of various diseases, their complications how to avoid complications & their management is very precisely given by acharya charaka.
All the popular samhita like "charak samhita" "sushrut samhita" & "ashtang hridiyam" all 3 samhitas collectively known as great triads are also thought in this department.
This department is related with all three academic years of bams all subjects are very important & interesting that unfalds secrets of our life spirit & of the material world the knowlwdge of pramana improves the intelligence and common sence the knowledge of samhita & basic principle are most useful to all students and teachers for the enlightening of their intelligence.
Aim :
Our aim is to scientificly explore the ancient classical texts.
To prove the applicability of ancient texts & basic principles in this modern era.
To unfold the secrets of life and make society healthy & happy.
Objectives :
To guide the students to understand the vital and fundamental concepts of Ayurveda.
To make the students aware about this great ancient Indian medical science.
To impart love, affection and good health to all mankind.
To carry out essential research in Ayurveda to validate the ancient concepts.
Departmental Features :
Well qualified and experienced teaching staff.
Well preserved and maintained departmental UG and PG departments.
Availability of good books in the library.
Use of modern teaching aids like Charts electric models etc.
CME :
Department of Sanskrit Samhita and Siddhanta conducted a CME (ROTP) for teachers of Samhita with the help of Dept. of AYUSH on 4 March 2013 to 9 March 2013. Total 24 delegates from all over India participated in this event.
Special Activities :
National Level Shlok competition was held in our institute. Students from all parts of Indian Ayurvedic institute participated.
Facilities :Museum
Departmental Library
All the classical text with all commentries are available in our departmental library.We have well trained P.G. teachers we started ayurved samhita P.G. course form 2013 till date.
Teaching Faculties:
Sr.No
Name of Faculty
Designation
Qualification

1.

Vd. Kolarkar Rajesh Shivajirao
Professor& HOD
M.D.(Samhita) M.A (Pali)

2.

Vd. Vaidya Jayashree Rajendra
Reader
MD (Samhita): M.A. (Sanskrit)

3.

Vd. Karve Mandar Jayant
Reader
M. D. (Samhita)

4

Dr. Shukla Ashok kumar Govind prasad
Lecturer
M. A.(Sanskrit)

5.

VD. Patil Reema Manohar
Lecturer
MD (Samhita)
6.
Vd.Ketaki Shirodakar
Lecturer
MD (Samhita)
7
Vd. Khude Trupti
Lecturer
MD (Samhita)
POST GRADUATE STUDENTS
| | | | |
| --- | --- | --- | --- |
| SR.NO | NAME OF THE STUDENTS | BATCH (YEAR OF ADMISSION) | NAME OF GUIDE |
| 1 | TONDE SUKHDEV KUNDLIKRAO | 2013-2014 | DR.RAJESH KOLARKAR |
| 2 | DESHPANDE SHWETA | 2013-2014 | DR.MILIND PATIL |
| 3 | LOHSE SONALI PRAKASH | 2014-2015 | JAISHREE VAIDYA |
| 4 | RATNAPARKHI MAYURI ASHOK | 2014-2015 | JAYASHREE VAIDYA |
| 5 | SHIRODKAR KETKI SHIRISH | 2014-2015 | DR.RAJESH KOLARKAR |
| 6 | BERDE SHWETAMBARI MAHESH | 2015-2016 | DR.RAJESH KOLARKAR |
| 7 | KOLI PRAJAKTA RAJESH | 2015-2016 | DR.RAJESH KOLARKAR |
| 8 | TALEKAR MAHESH KASHIRAM | 2015-2016 | DR.RAJESH KOLARKAR |
| 9 | ARYA MAYURI SURESHRAO | 2015-2016 | DR.RAJESH KOLARKAR |
| 10 | MISHRA SMRITI SHASHIRAJAN | 2016-2017 | DR.MILIND PATIL |
| 11 | PAWAR MINAL SAGAR | 2016-2017 | JAISHREE VAIDYA |
| 12 | CHALWADI SHILA MARUTI | 2016-2017 | DR.RAJESH KOLARKAR |
| 13 | SHIRKE KASHMIRA RAVINDRANATH | 2016-2017 | DR.RAJESH KOLARKAR |